I love when you tell me not to speak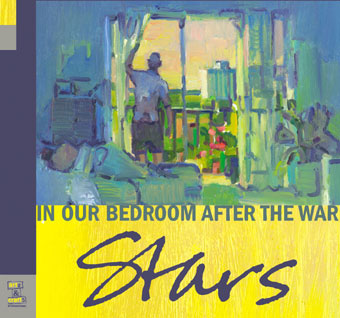 I've been mulling over this one for a week or two, trying to take it in. The biggest problem with me and new albums is that I'm usually in a bad mood, which usually yields bad reactions to music that is otherwise awesome and beautiful and deserving of high praise.
So I listened to it as I sat in quiet libraries, on noisy airplanes with crying babies, as I walked around small town streets, as I looked out my window at my garden, watching the summer sun rise, and as I lay sleeplessly in bed in places that, once familiar, I have to leave.
In Our Bedroom After the War
has become to this summer what
Begin to Hope
was to the last: the soundtrack to the softness of a season well spent. While
Begin to Hope
ushered in the summer, however,
In Our Bedroom After the War
will end it, capturing the sweetness of near-autumn and combining it with the slow but steady rhythm of summer.
The song that seems to stand out the most is, I think pretty
consistently
"Take Me to the Riot." The whole album has a ton of synth, but for a song with so much obvious new wave influence, "Take Me to the Riot" has none, if any at all. I especially like all of the light-related imagery juxtaposed with facial imagery. It is a good season for songs about both of these things, especially when they sound this good.
There are a few other stand-outs on the album (though I find deeper appreciation for the songs I initially wasn't crazy about every time I listen to them). "The Ghost of Genova Heights" (soooo Morrissey), "Personal" (whispered so sweetly), "Barricade" (a slow, melancholy ballad), and the themes of heroism and revolution sprinkled throughout really made this album for me. I'm not sure yet if I like it better than
Set Yourself on Fire
, just because it isn't quite as familiar/pop culture pervasive yet, but it's getting there. It's definitely the most
successful
album I've listened to so far this year in that I don't think it was overhyped or too greatly anticipated.
Download it
here
or wait 'til Sept. 25 for a hard copy.
Stars:
Take Me to the Riot
Stars:
Barricade
Stars:
Window Bird
In other news, I'm reading a
really great book
that I'll definitely write about when I finish.